Incident Alarm Components
Incident Alarm – Control panel
The incident alarm control panel is designed to be simple to install and easy to use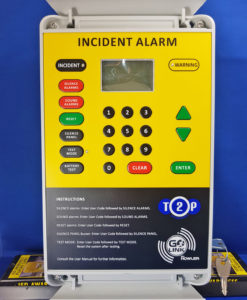 self-explanatory buttons for simple day to day operation
SD card logs key events
Mains operated  via a plug-in mains transformer with a battery back up in case of power failure or for short term installations.
Numerous output options from the panel, facilitate integration with ancillary equipment such as auto-diallers, CCTV systems and access control systems
Speedy set-up
Continuous fault monitoring constantly monitors connections between stations, and gives you warning if any station becomes disconnected, or if battery power runs low
Incident Alarm – Alert points
The incident alarm alert points are quick to set-up and require no specialist equipment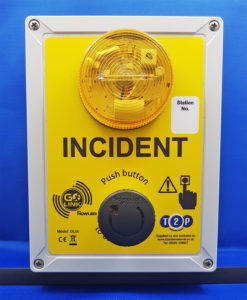 Battery operated, the alert points are completely standalone
Can be wall or desk mounted and relocated with ease
Unique black switch Easily identified as a warning button not fire
Alert points work together, passing messages between units to maximise the already superb range of the system
Up to 127 units can be connected to each control panel
8 channels ensures that your system will not interfere with any other systems in the vicinity
IP67 ensures the alert points can be used in the harshest environments
Long life battery pack; economical and quick to replace. They also pose low fire risk compared with lithium batteries.
Incident Alarm – Interface Unit
The incident alarm interface units are easily installed and used to Link to turnstiles, CCTV systems, existing alarm systems, autodialers a host of other devices and can be used as a relay to improve communications between alert points and the control panel.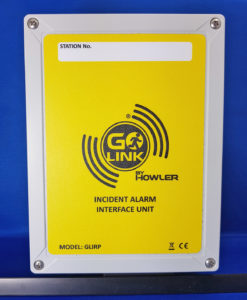 Lock turnstiles
Activate CCTV
Activate autodialers
Connect to other systems, to make your site invacuation or shelter-in-place procedures seamlessly integrated
Battery-operated, wirelessly linked and with IP67 rated enclosure, the Incident alarm Interface Unit can be mounted where it is most convenient to avoid trailing cables which are in danger of being removed or damaged
Act as a relay to improve system connectivity
Incident Alarm – Autodialler
The incident alarm autodialler can be programmed to automatically send an SMS message to a maximum of 10 numbers notifying that the system has been activated, allowing key personnel to be notified no matter where they are.